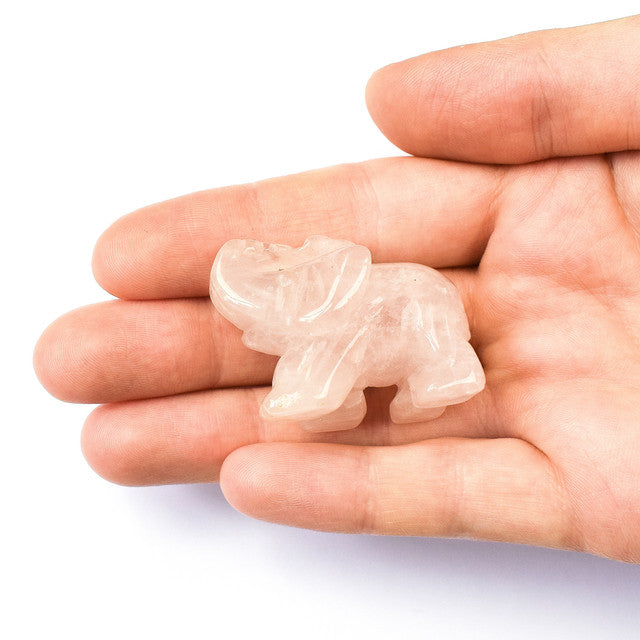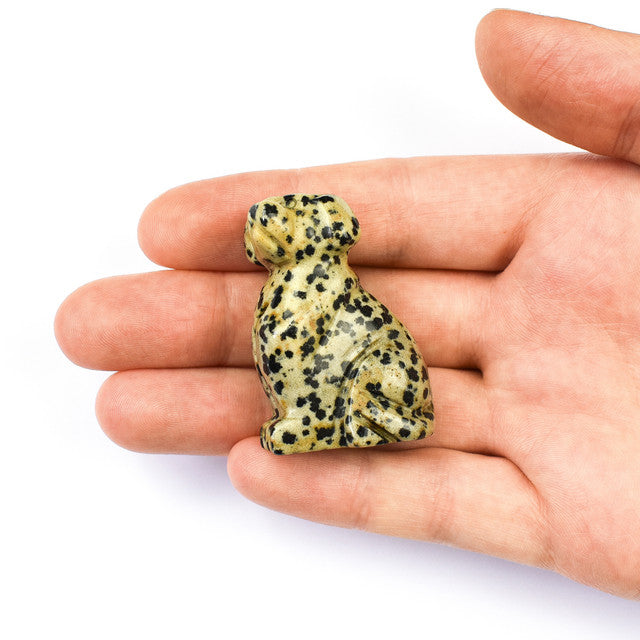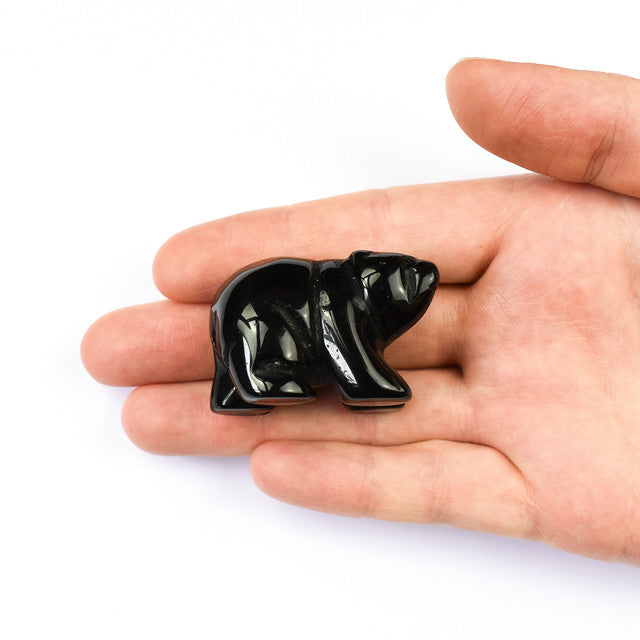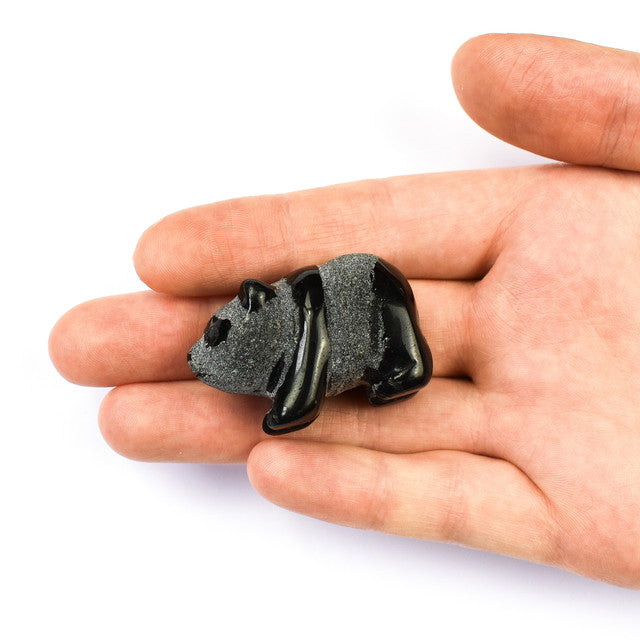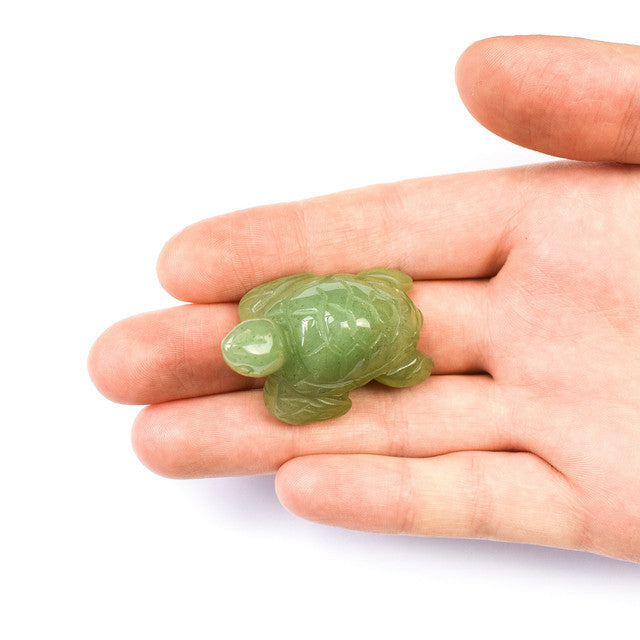 Crystal Animals
Rose quartz elephant is about 3.2 cm (~ 1.25 inches). Length from nose to tail is 4.3 cm (~1.6 inches)

These are delicate pink rose quartz elephants expertly hand carved.

More About Rose Quartz
Rose quartz is one of the most popular crystals along with amethyst and clear quartz. It has a calming and soothing energy. It promotes self-love and helps overcome feelings of not being 'good' enough, self-criticism and resentment. It reminds us that when you love yourself and are happy in the moment there is no need for haste. Rose quartz embraces the one true currency of life, love.

More About the Symbol of the Elephant
The elephant is one of the most popular and best known animal symbols. Elephants are highly regarded as being a symbol of loyalty - as they tend to stick together - and of strength and power, as they're one of the largest and most powerful creatures. They're known for their intelligence and wisdom too (they live long lives) and, the classic phrase, "Elephants never forget," reflects an elephant's intellect and memory abilities. Due to this, anything associated with an elephant makes a great gift for a special friend, signifying that you'll never forget them or their kindness. 

Many people also regard the elephant symbol as lucky and something that could bring them good luck, especially ornaments or statues that feature raised trunks. Elephants feature in Buddhism, as Buddha chose a white elephant as one of his incarnations, and they're considered as being holy, patient and wise. Elephants are very important in Thailand, both in the culture and way of life, and are regarded as a symbol of power and peace. In the late 17th century, a Thai king had 20,000 elephants trained ready to do battle in war. A white elephant still features today on the flag of the Royal Thai navy.  Overall, anything involving elephants, such as a mini statues, ornament or jewellery, is good to have around and promotes positive feelings of loyalty, wisdom and strength, reminding us that we have much to learn from elephants.
 Golden tigers eye rabbit with unique markings reminiscent of rich gold brown fur. Each one is individual and will vary slightly from the picture shown. Choose between a standing up, or sitting down rabbit.

Size of Sitting Rabbit: Roughly 2.5 cm in height, approximately 4cm in length and 2 cm in width.

Size of Standing Rabbit: Roughly 4cm in height, 2.4 cm in length, and 1.2 cm in width. 

More About Tiger's Eye
Tiger's eye has the quality of what is termed chatoyancy, which means as the stone is turned it reflects light in glorious iridescent ways on its surface. It can be used as a tool to rebalance the body, especially during healing or meditative work, and some people use it to aid psychic work. Tiger's eye helps us to know that new experiences and more enjoyable situations are only as far away as we believe them to be. This stone can be held when seeking a calm influence in our life or when our thoughts are fragmented and we need focus. It also can help heal issues of self-worth. In times of peace, clarity or grace it may help us to remain in the present and not worry about how long the good feelings will last. Golden Tiger's Eye is a soothing stone. Its golden colour symbolizes a connection with the sun, which helps us connect with deep intuition and psychic impressions. Also golden tiger's eye can be a good stone to have around in a business environment, as its energy is charismatic yet well balanced.
Dalmation Jasper dog is about 4 cm (~ 1.5 inches)

This is a wonderful seated crystal dog with the dalmation jasper giving each animal its unique markings

More About Jasper
The family of jasper stones have an energy that's very grounding and stabilizing. They promote the need to reduce insecurity, guilt, worry and fear and remind us of our connection with mother earth. Jasper is a great stone to have around if you're in need of healing, or if you're a healer, as it can be a useful tool for re-balancing the aura. Due to its grounding abilities, it's a good stone to hold or have close by if you're meditating, healing or involved in similar activities. It can be held in the hand whilst you visualize roots sprouting forth from your feet, securing and grounding you to the earth.

More About the Symbol of the Dog
The energy that dogs carry is that of assistance, friendship, guidance and protection. Generally if dogs are treated well they tend to love unconditionally and be loyal. In China dogs are considered auspicious. In Celtic belief they are often associated with heroism, courage and persistence. For Native Americans often they are associated with protection and community. These are very generalised meanings, but we are so often with dogs we can forget the energies they bring. Wearing jewellery or having they symbols of dog can help remind us of these energies.
Black obsidian Panda: each is unique in it's own way with slightly different markings or characteristics. You can see from the comparison picture the different variations there might be.

The whiter area's are unpolished and dark areas are polished, which gives it the distinctive 'colour patches'.

The Panda is known as a spirit animal associated with strength and peace; symbolic of finding a balanced path through life. 

Size of Panda: Approximately 4cm in length (at the longest point), and roughly 2.7cm in height (may vary fractionally as these are hand carved).

More About Black Obsidian
The energy of obsidian is protective, guarding and secure, reminding us to protect ourselves against the harsh words or actions of others or from the stresses and strains of life. It's good to have around in a working environment where there may be stress. It can also be used as a tool to aid grounding, and for uniting body and spirit, bringing them into harmony and focus. Obsidian cuts through all that is superfluous and brings us right back to the truth of how we are and how the world around us truly is. It may promote deep soul healing and also help connect with past lives. Pieces of polished black obsidian or obsidian spheres are often used for scrying (seeing things supernaturally within a medium, such as crystal, for divination of past, present or future).
Green aventurine turtle is about 1.3 cm (~ 0.5 inches) and length is about 4.7 cm (~1.8 inches)

These green aventurine turtles are elegantly hand carved with detailed shells. As these are natural crystal some variation in colour will occur. A great size to hold in your hand.

More About the Symbol of the Turtle
Turtles have been and are held sacred in many traditions. In the Far East the turtle shell is seen as a symbol of heaven while the squarer underside is symbolic of mother earth. And through other traditions such as Native American turtle is a symbol of mother earth and our ability to find happiness on mother earth.

The turtle is a slow moving creature on land and is never in a rush. All you need to do is find the pace that is appropriate. Like the knight of pentacles in a Tarot deck turtle energy is steady, earthy and always accomplishes what they set out to do. If you align with the energy of turtle you are assured of completion. It teaches to go with the flow and be happy with the pace that your life is taking. Do not try to push it faster than is natural or you may reach your destination too early and feel you missed something along the way. Turtle teaches us to try and enjoy the journey as much as the final achievement. To focus too much on the end of something means you will often find yourself dreaming of the future, which will leave you ungrounded and unhappy. So have around you the symbol of turtle when you wish to remain grounded and take joy in what you have been given. 

Also because of their great shells turtle symbolise our ability to protect ourselves. When you have done a certain amount of personal development and thinking you come to realise that everything is connected. And we start to see ourselves reflected in the actions of others. But sometimes some people have their own history and their own anger and it is just best to get out of their way. That is where the shell of turtle may come in handy. You don't have to take responsibility on for everyone. Sometimes just leave them to get on with it. And if they get too close use turtle energy to give them a little snap so they know you are there.

More About Green Aventurine
Aventurine energy feels uncomplicated and fresh and can be useful for washing the aura at times of mental or emotional stress, when we need a stone to hold in our hand whilst connecting with a clearer path.  Aventurine is good to have around when making decisions as it reminds us to connect to the heart and the idea that it does not matter which road we take because it will always be the right one. It is a good companion for the pioneering spirit, someone who is pushing themselves to places they have never been before. A good all round healing stone.