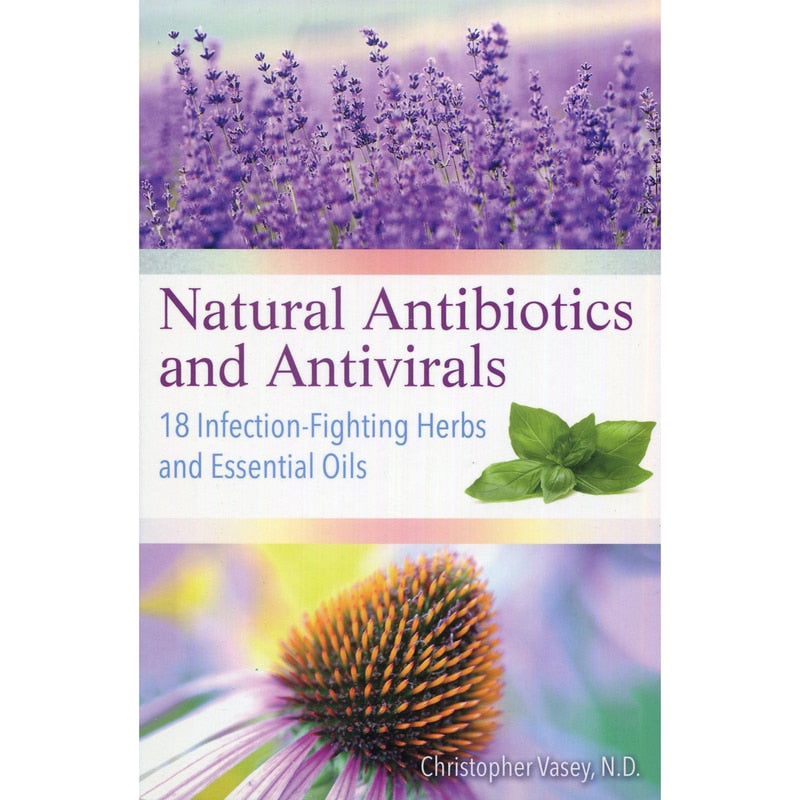 Natural Antibiotics And Antivirals - Christopher Vasey
Natural Antibiotics and Antivirals by Christopher Vasey, N.D.
About the Book
Nature offers us many natural antibiotics from the plant kingdom that work powerfully against germs while also being gentle on the body. Knowledge of these safe and natural antibiotics and antivirals is more crucial now than ever as modern antibiotics become less and less effective due to the growing threat of antibiotic-resistant germs. Natural antibiotics even offer an opportunity to reverse antibiotic resistance by reducing the use of pharmaceutical antibiotics to only the most critical cases. 
In this practical guide, Christopher Vasey presents 18 of the most potent antibiotic and antiviral herbs from around the world and one beehive remedy, propolis. He details how to use the effectively as mother tintures and essential oils as well as what illnesses each is best suited to treat. Drawing on the latest research, he explains how microbes can't build resistance against there natural substances due to the many molecules in their makeup and their large spectrum of action in the body, which makes them effective against viruses as well. He reveals that, unlike pharmaceutical antibiotics and antivirals whose list of side effects grows in proportion to their strength, natural antibiotics generally lack any malignant side effects and have no adverse effects on non-targeted bacteria, such as intestinal flora. The author also includes information on probiotics to restore gut health after the use of pharmaceutical antibiotics, ways to strengthen your immune system and become less recptive to infections, and guidance on detox treatments to support the natural antibiotics as they work. He also provides an index of 50 common ailments and diseases with the most effective medicinal plants and essenial oils to use in each case. 
Offering a way to break free from the threat of antibiotic-resistant germs and improve the body's immune system and internal terrain, this guide gives each of us the ability to fight infections naturally. 

Information: 200, paperback