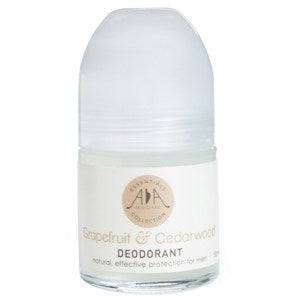 Grapefruit & Cedarwood Deodorant
Made with naturally deodorising pure essential oils, Grapefruit and Cedarwood Deodorant helps to balance the natural oils produced by the skin and attacks the bacteria that can cause body odour.
This deodorant has a lovely woody fresh aroma that keeps you feeling and smelling fresh.
Suitable for all skin types.
Why use a natural deodorant?
Many mass produced antiperspirants contain aluminium salts, alcohol and parfum which can be irritating to the skin and clog pores. This can stop your skin from being able to breath and can cause many problems including skin infections and unsightly boils or spots.
natural deodorants not only allow you skin to breath but provide day-long protection against body odour keeping you feeling fresh. read less
They're made with carefully selected naturally deodorising pure essential oils that take care of nasty smells and look after your skin. They don't contain any aluminium, alcohol or synthetic parfums.
These effective deodorants are kind to your skin and you can relax in the knowledge that only the finest natural ingredients have been used to create them.
smart roll-on bottles ensure that the deodorant goes exactly where you want and that there's no wastage as experienced with spray deodorants.
Vegan Friendly
50ml.